You can now import your full roster in one fell swoop using a CSV file containing your players' information!
Your CSV file should be arranged in the following manner:
Jersey, First Name, Last Name, E-mail, Player Position(s)*
(* - if your athlete plays more than one position, separate each position by a comma, but enclose the full list of positions in quotes.)
For example: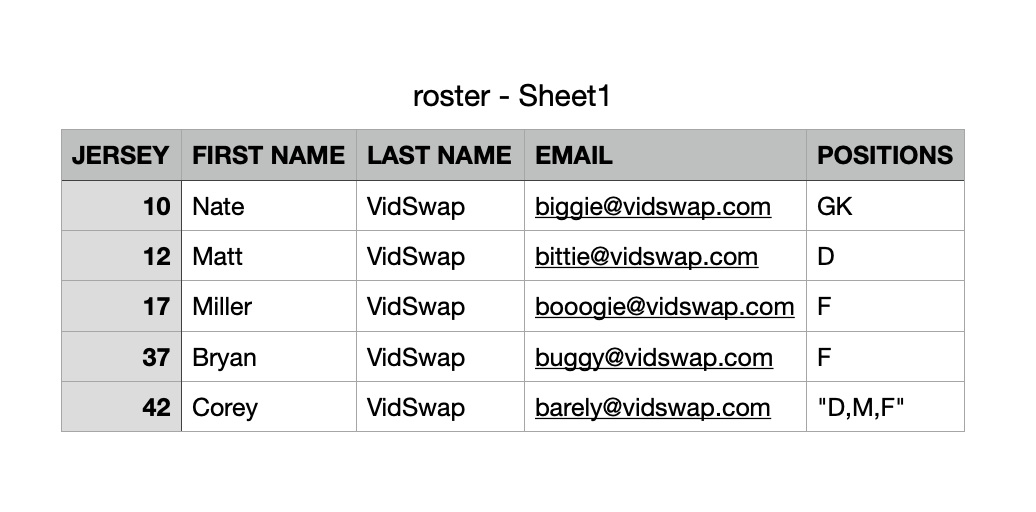 Would you like to download an example CSV, so you can edit it to feature your own roster (and then upload that)? No problem! Please go here.
The following player positions are available to set for your athletes in each sport:
Baseball: IF, OF, 1B, 2B, 3B, SS, C, RHP, LHP
Basketball: G, F, C
Field Hockey: Forward, Defender, Midfielder, Goalie
Hockey: C, GK, D, W, F
Lacrosse (Men): GK, D, M, A, LSM, FS
Lacrosse (Women): GK, D, M, A, DS
Outdoor Football: QB, WR, TE, RB, FB, OL, K, DL, DE, LB, S, CB
Soccer: GK, D, M, F
Softball: IF, OF, 1B, 2B, 3B, SS, C, RHP, LHP
Volleyball: OH, MB, S, L, OP, DS
When your CSV is ready to go, open your ROSTERS section, and if there are no athletes listed there yet, simply click on the click on the blue 'Import Athletes' button: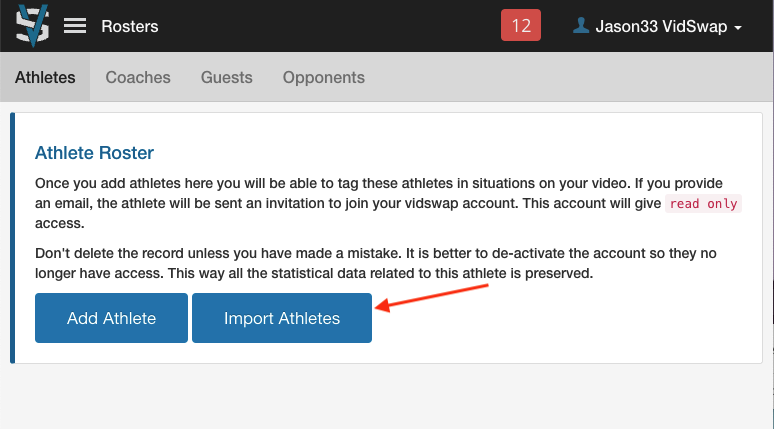 If you're looking to build on a previously added roster, just click on the 'Import Athletes' button in the upper right corner of the screen:
Select the season you wish to add your athletes to, and drag and drop your CSV file into the space provided. A preview of the data to import will display. If your CSV file includes a row at the top to designate the Jersey, First Name, Last Name, E-mail, and Position(s) columns, be sure to check the 'File includes header row' checkbox: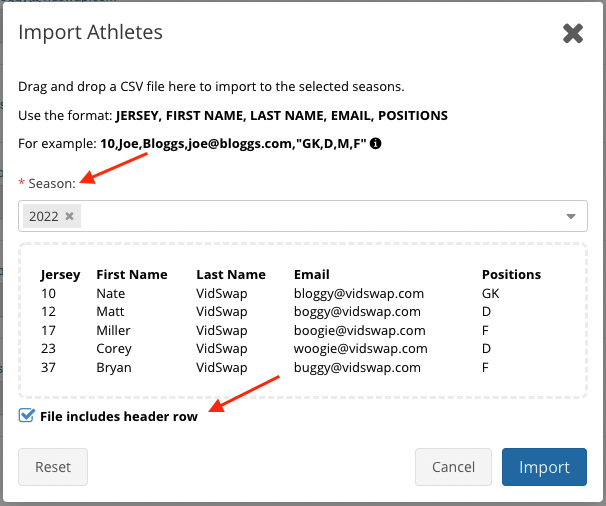 When you're ready to go, just press the 'Import' button, and your rosters will populate: