If you need help with entering new players into your Roster, please see this article here.
If you need help with updating an athlete's active season, please see this article here.
You can control what your players can and cannot access in your account by setting their permissions . This is done using the 'Update Permissions' function.
You can update each player individually or mass-update any number of players on your Roster by selecting the athlete(s) via the checkbox to the left of their jersey number.  Click on the 'Actions' button on the far right side of the column header and choose the 'Update Permissions' option.
You must have coach or admin level access to do this. 

When you first open the 'Update Permissions' box, it will ALWAYS be empty, regardless of any permissions the selected athlete(s) may already have: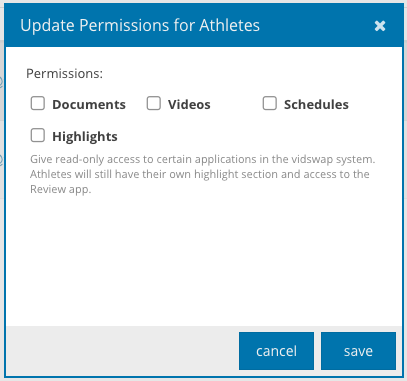 You are setting the template of which permissions all of the selected athletes are going to have.  Even if (for example) some of the selected athletes already have permission to access 'Videos', you need to choose it again, as these choices are going to erase and "overwrite" the permissions that are presently there: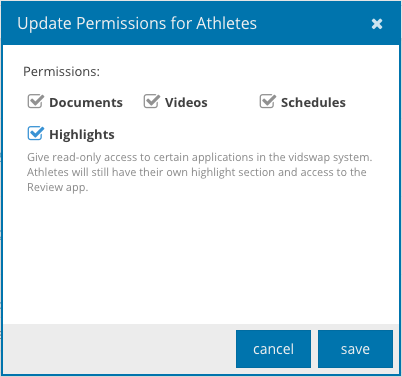 Press 'save' to apply those changes to your selected athlete(s).
(If you 'cancel' out of or close the box, the permissions will remain as they were before the box was opened)
Your players will always be able to see the Reviews you assign to them, as well their own Player Highlights. 
CHECKING 'PERMISSIONS' STATUS 
You can check on an athlete's 'Permissions' status at any time by looking in your 'Rosters' section, and clicking on the 'edit' option in the 'actions' dropdown to the far right of the athlete's name:

When you do so, that athlete's profile will present itself.  Scroll down to the bottom of the profile, and see what 'Permissions' the athlete is enabled to access.  (NOTE: You may also edit a player's permissions here.)