When your search results are returned to you, there may be times where you wish for a bit more (or a bit less) footage than what is offered in any given clip.  You might, for example, wish to see the events leading up to penalty kick, or the celebration after a scored goal.  
You can fine-tune the clip lengths of your filter results in two ways: by adding lead and/or lag time values to your clip(s), or by customizing the 'Start' and 'End' points of the clip(s).
ADJUSTING THE LEAD AND LAG TIME OF CLIPS:
This is the course of action to take to lengthen your clip(s).  Choosing to add Lead Time adds game footage to the front of the default clip length; choosing to add Lag Time adds game footage to the end of the default clip length.
Whenever you filter for a game event, the Lead Time and Lag Time values are set at zero.   For this particular example filter below (Faceoffs won by Stonehill College), the default duration of the clips is 11 seconds.

Now let's say you wanted to see the events leading up to the Faceoffs, and more of the play following the Faceoffs.  By adding lead and lag time, this will add to the clip length, depending on your desired results.
(Please note: altering the Lead / Lag Time of your clips in this manner does NOT permanently affect any of the tags in your game.  The results displayed here are unique to this search.  Also, you can create (or add to) Highlights or Reviews with these newly lengthened clips.)
In the below example 10 seconds of lead time and 5 seconds of lag time have been added to all of the clips.  After clicking the 'Apply Lead and Lag' box, you can see the duration of those previously 11 second long clips is now 26 seconds.

Using this tool, you can refine or tweak your clips to your heart's content, adding Lead or Lag Time to fine tune them and create exactly the clip you're looking to Highlight or examine.
SHORTENING THE CLIPS: 
But what if the clip was already too long, and you only needed four seconds of that eleven second clip?  By altering the 'Start' and/or 'End' point of the clip, you can boil that clip down to the essence of what you're looking for.  
In your filter results, simply double click on the start or end time, and you can adjust the length of that clip by manually altering when that clip begins and finishes.  
(The values shown in the 'Start' and 'End' windows correspond to the point on the timeline that that clip starts and ends in the video of your game: the hour(s), minutes, and seconds):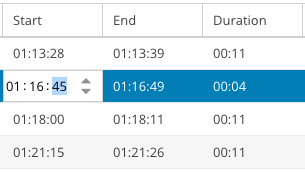 Make the adjustment(s) you want to the value you're looking to change and press the 'return' key, or press 'play' on your video player.  Voila!  Clipped clips!  
(Please note: altering the 'Start' and 'End' point(s) of your clip in this manner does NOT permanently affect any of the tags in your game.  The results displayed here are unique to this search.  Also, you can create (or add to) Highlights or Reviews with these newly shortened clips.)