It is, of course, from the 'Rosters' section that you can track and update the information and permissions of all of the Athletes, Guests, and Coaches associated with your team, but did you know that you can enter your opponent's roster(s) here as well?
Spending a few moments creating a roster for your opponent will enable opposing athletes to be tagged as part of your VIDEOS breakdowns (when applicable).
(NO opposing athlete will gain access to your account; this is only so our loggers can add opposing athletes to your breakdowns)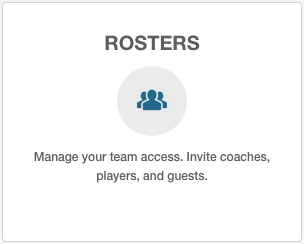 (PLEASE NOTE: In Conference Exchange / SCHEDULES games, tagging the opponent's athletes relies on the opposing team having entered their main roster. That info is NOT taken from the 'Opponents' section of your roster.)
(If you'd like more information on adding or managing your team's roster of athletes, coaches, or guests please see this article here.)
1. Choose the 'Opponents' tab from the Roster menu:




2. Click 'Add Team' (the '+' button along the far right side of the top header):

NOTE: if you have previously entered an opponent's team name when creating a playlist for uploading video, that opponent's team name will already appear here.

3. A pop-up box will appear. Enter the opposing team name and click 'submit and close'. Please be sure to enter the name EXACTLY as it has been (or will be) entered in a game's playlist title, so it can be linked to that team every time they come up. If you would like to add more than one opposing team, click 'submit and add another':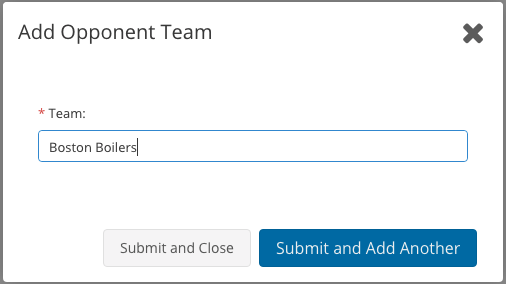 After you submit this information, the opposing team's name will show in your master list of opponents.
4. Add opponent players by clicking 'athletes':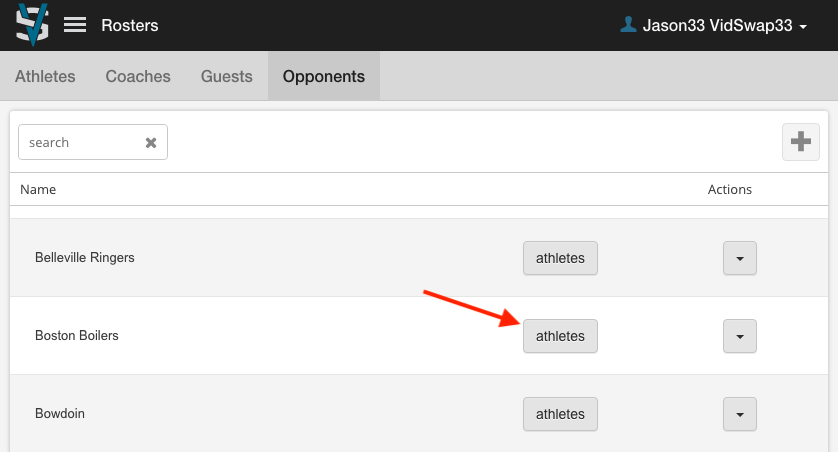 5. Enter info for the player, exactly as you would for a member of your own roster. If you would like to add more than one opposing athlete at a time, click 'submit and add another':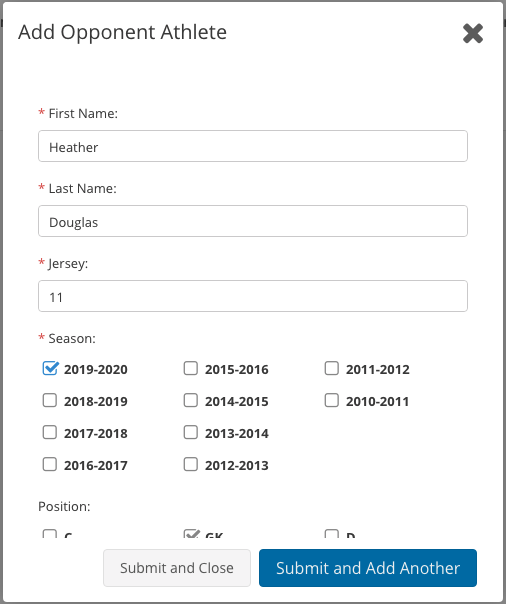 6. You can edit the player's information via the 'actions' dropdown box to the far right of the athlete's name: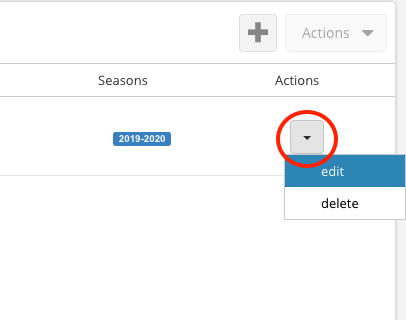 7. Add more players using the 'Add Roster Member' button (the '+' button) located along the upper right edge of the top header: