YOU CAN NOW ADD YOUR FULL ROSTER BY IMPORTING A CSV FILE! PLEASE SEE THIS ARTICLE FOR INSTRUCTIONS.
The 'ROSTERS' section is accessed from your Applications dashboard. This allows you to grant log-ins to each Athlete, Coach, or Guest for their own access. Adding your roster also allows the tagging of the players in your videos for stats and highlights.
If you have athletes returning from a previous season, you don't need to re-enter their data; you can update their active season. Please see our help article on this topic here.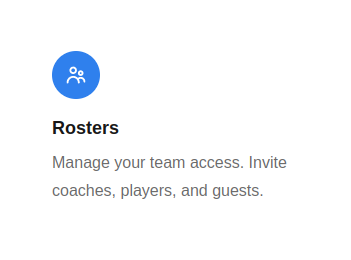 Add Players, Coaches, Guests, or Opponents:
Along the top of the page, you can choose which 'type' of roster position you wish to add: Athlete, Coach, Guest, or Opponent. Simply click on the tab to begin: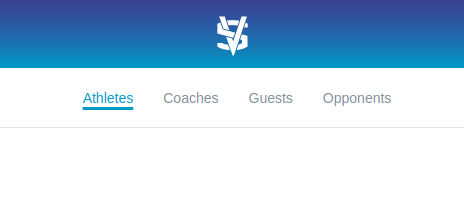 Athletes & Guests have read-only access, can download files, cannot make edits or e-mail games, and can create their own private Highlights.
Coaches can make edits, upload videos, e-mail games, access and edit the Rosters, and can create team Highlights and Reviews.
Guests are the only user-type that can't receive Review assignments from Coaches, as Guests are not necessarily associated with an organization, nor require an e-mail address to be granted access.
Entering an opposing team's roster will allow our loggers to tag them in your matches (unavailable for conference team games). For help on entering an opposing team's roster, please see this article here.
1) To add roster members, click on the '+' button along the far right side of the top header: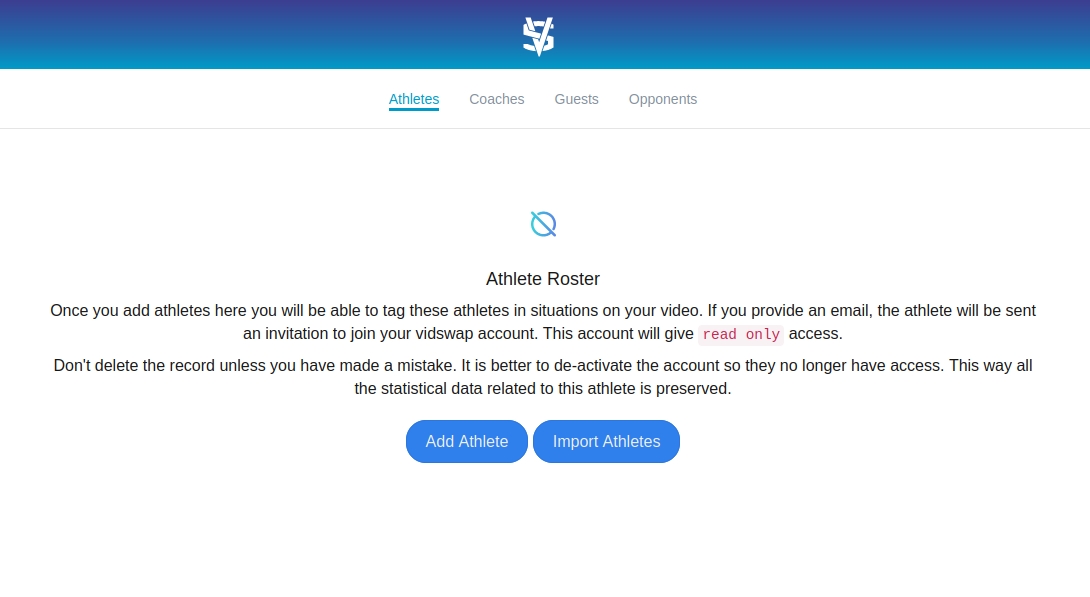 2) Enter all of the player's relevant info: name, number, email, position, graduating year, etc. The entries marked with an asterisk are required information. If you elect to enter the Athlete's email address, an invitation will automatically be sent to that person to activate their newly established VidSwap account.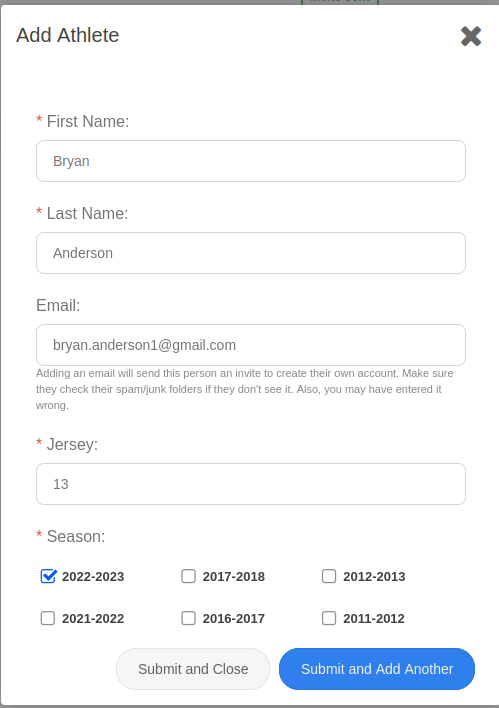 Please be sure
to scroll down to the bottom of the form and determine the access level(s) of the Athlete(s). This is done via the 'Permissions' section, and is where you can customize the access that players will have to your account. If you're uncertain what to put here, you can easily update this section later. More information on that can be found on our
PERMISSIONS
help page.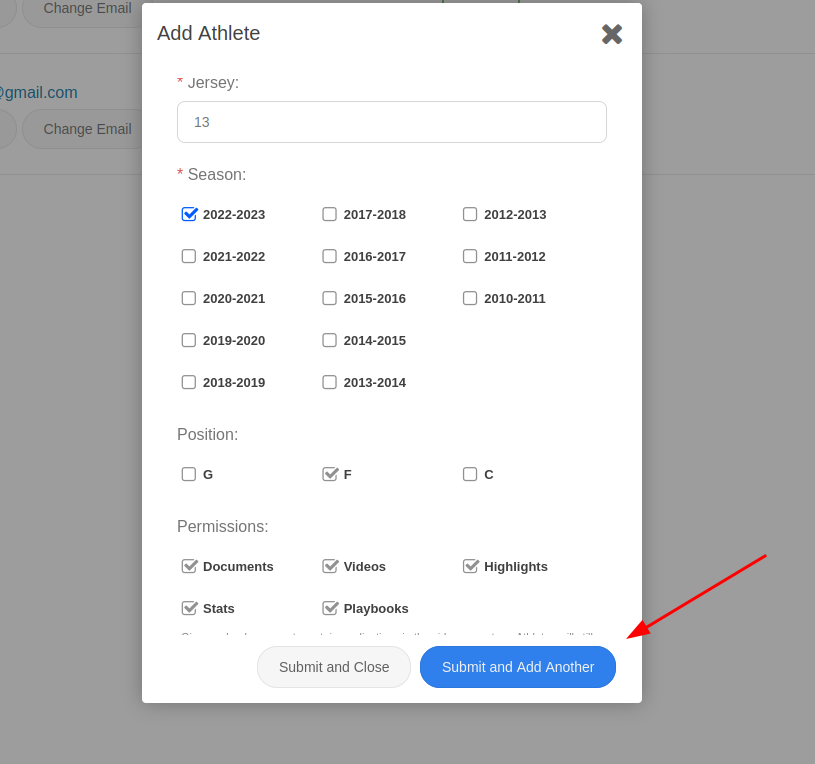 The player will then show on your list of active roster members:

3) You can always edit an individual player's settings and access levels from the 'actions' dropdown button to the far right of their name:

...or you can mass-update multiple players' Permissions & Seasons simultaneously by using the checkbox in the upper left corner of the roster list to multi-select them, and then clicking the 'Actions' button on the right side of the top header (the 'Update Permissions' option):

4) You can alter an account's Active / Inactive status by checking (or unchecking) the 'Active' box to the right of the roster member's name. A deactivated account will instantly 'lock out' that user. Reactivating them is as simple as re-checking the box: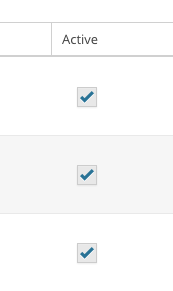 5)
If an email address is not entered for the Athlete, you'll see a 'send invite' notification. Click the box to enter the player's email address and send them an invitation:

Setting Your Season:
Also be sure to check that your account is set for the current season, and update it if necessary. Doing so will assure the correct roster shows for tagging games or for Reviews assignments. You do this in your SETTINGS section, under the 'Seasons' tab. Simply choose the correct season from the dropdown menu and your account will automatically update: