For some solid basics on filming soccer for video breakdown and analysis, please see this article here.
Medium and Advanced-level breakdowns are important tools you can use to bring the analysis of your game to the next level.
If you have a question or comment about something that isn't covered here, please drop us a line at support@vidswap.com

WHAT ARE MEDIUM AND ADVANCED-LEVEL BREAKDOWNS?
Advanced breakdowns build off of the Basic tagging suite to include things like player touches, pass strings & results, and more. Please contact sales@vidswap.com if you'd like more information.
Medium breakdowns are presently offered for Soccer. They are a 'touches only' breakdown that tags athletes in the game (but does not include the Basic tagging suite).
Multiple angles of synced footage are no longer REQUIRED for a Medium or Advanced breakdown, although we still recommend the benefits of multiple angles (a wide-angle shot of the game for Basic tags and a tight-angle shot so we can see the numbers on players' jerseys in order to tag them).
If you do not plan to upload multiple angles of footage, you must fill out the Player Lineup Charts (like this).
HOW DO I SET UP MY CAMERAS TO FILM A GAME WITH MULTIPLE ANGLES?
Great question. You must mount both cameras on a single tripod like this: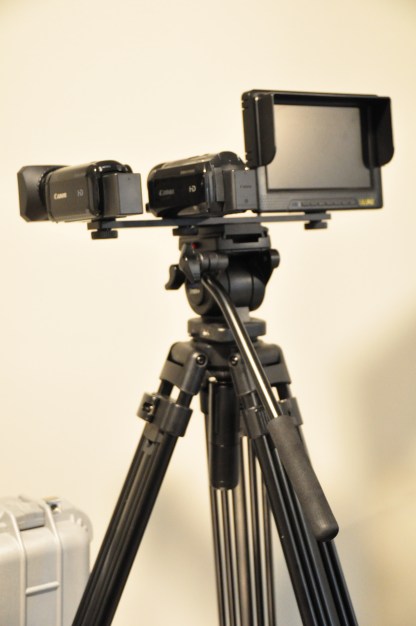 This setup serves multiple purposes:
It allows for both cameras' 'record' modes to be simultaneously turned on / off to assure the footage is synced.
It provides a coherence of footage so that the viewer does not have to reorient themselves when switching between wide and tight angles.
Both angles can be filmed by a single camera operator.
With this configuration, you set one camera to cover the wide-angle while you follow the action with the tight-angle camera (allowing both cameras to capture the footage they need).
If you're looking to procure (or upgrade to) a new video setup, we offer single and multiple camera kits in our company store.
If you have the cameras, but need to 'convert' your tripod into a dual-camera tripod, there are dual-camera photo bracket mounts at every price point (starting at under $10 USD); it's a small investment to make to assure you get every penny out of your Medium/Advanced breakdowns.
HOW DO I FILM GAMES IN MULTI-ANGLE?
The wide-angle shot should capture about one-third to one-half of the field, allowing our loggers a complete view of game events and situations: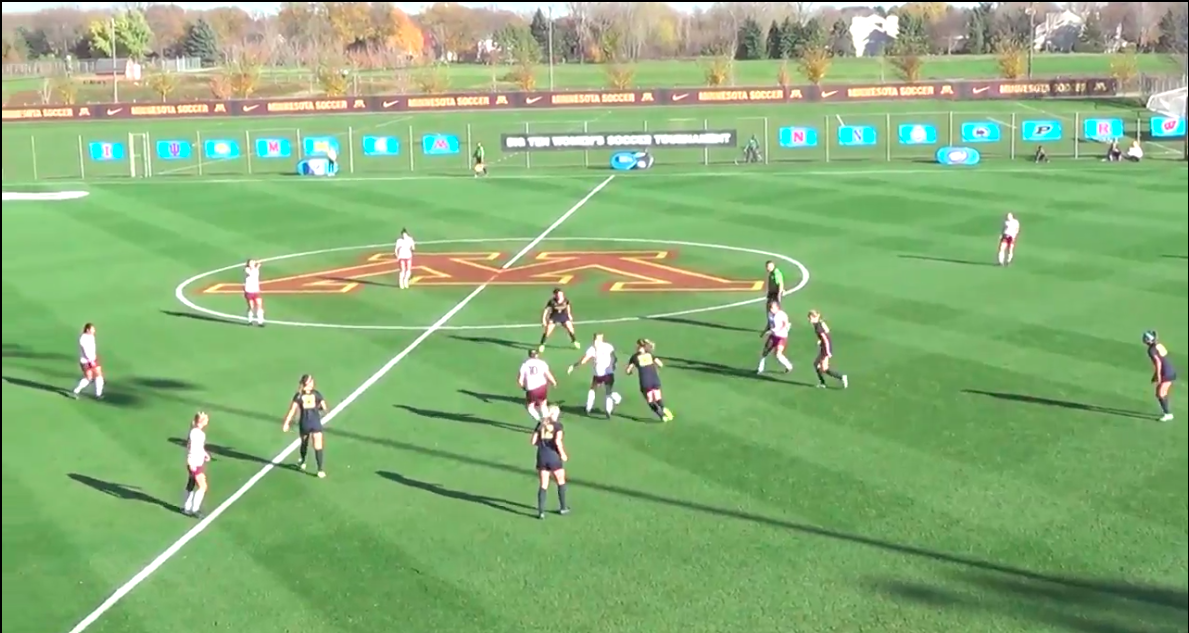 Since you'll be in close on the action, smooth zooms and camera movements are keys to excellent tight-angle film. The tight-angle shot should maintain about a 20-25 foot radius around the ball, allowing our loggers a clear view of the jersey numbers of the players involved in the action: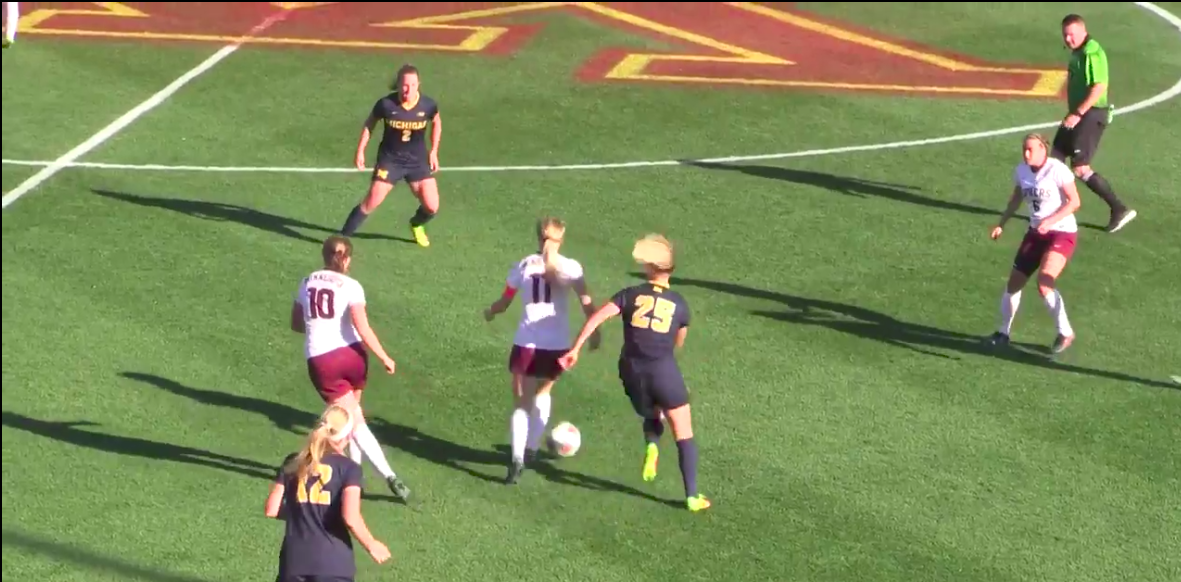 It is your responsibility to make sure that the footage from both cameras is synced before uploading.
HOW MUCH FOOTAGE DO YOU REALLY NEED?
All of it. Please upload the complete game, with both angles (if you have two). In a multi-angle game, we can only assign tags to the parts of the game that include both angles of footage. We cannot assign tags to "non-existent" footage.
For example, if you have wide-angle footage of your full game, but only part of your game as tight-angle footage, we can only tag the section where the footage in those angles "overlap". If you do not have the complete game in both wide and tight angles, you'd probably be better off with a Basic breakdown.
HOW DO I UPLOAD MULTI-ANGLE / SYNCED FOOTAGE?
When choosing angles of game footage to upload, ALL of the angles of footage should be uploaded during the SAME upload session, and into the same playlist (NOT separately, as different games).
In the upload window, click 'add angle'.
Choose the 'add wide angle video' option and then select the wide-angle clip(s) for your 'Medium' or 'Advanced'-level breakdown.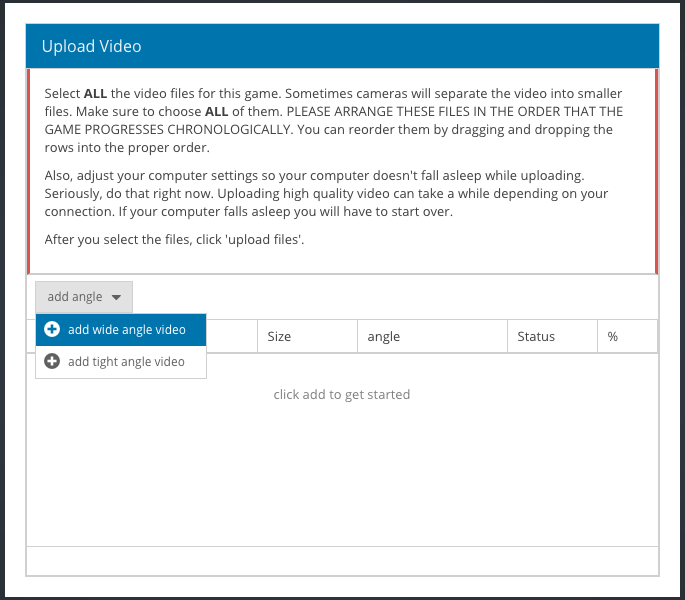 To add the tight-angle shot of your 'Medium' or 'Advanced'-level breakdown, after selecting the wide angle footage (but BEFORE pressing 'Upload File(s)'), press 'add angle' again and select the 'add tight angle video' option. Select your tight-angle clips as you did the wide angle clips in the previous step.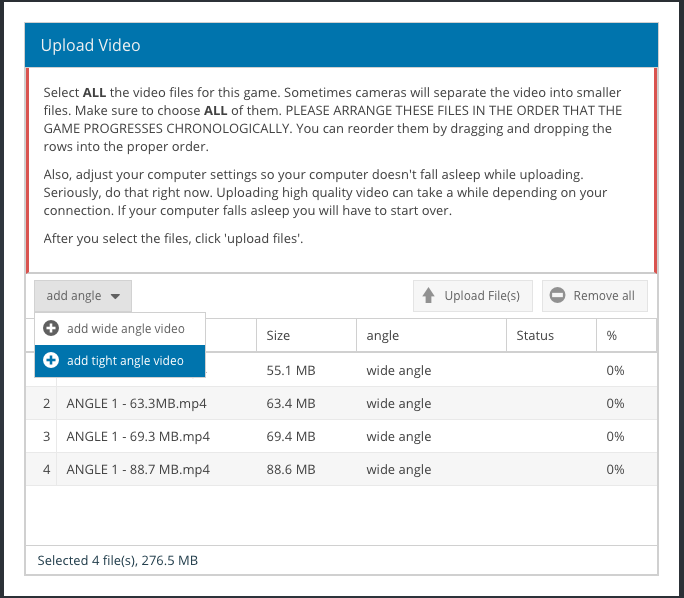 Press 'Upload File(s)' and you're on your way!